An Energy Performance Certificate (or EPC for short) shows how energy efficient a property is on a scale between A (most efficient) and G (least efficient). An EPC must also contain:
Information about the property's usual energy consumption and costs (shown in the "Current" column in the image below).

Recommendations to reduce energy usage and spend (shown in the "Potential" column in the image below).

A property must have an EPC before it can be bought, sold or rented unless it is subject to an exemption. The most common exemptions for residential properties are:
holiday accommodation that's rented out for less than 4 months a year or is let under a licence to occupy
listed buildings
residential buildings intended to be used less than 4 months a year
You can look at most properties' EPCs free of charge by searching the EPC register. You can search by address or EPC report reference number. This service allows you to compare your home's energy performance with that of similar homes.
One important point to note is that in Scotland the EPC must be displayed in the property, though it can be concealed in a meter cupboard or similar.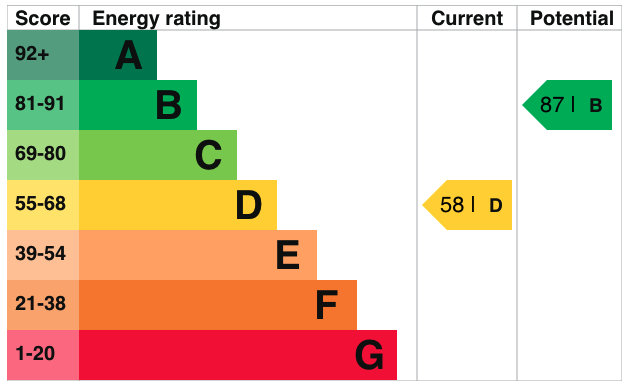 Changes are incoming to EPC requirements, including the minimum standards for domestic properties (see below). Being prepared in advance of these changes will save you time and money, and it will allow you to be even better prepared for any further changes in future. Failure to prepare may lead to you being forced to pay either costly renovation expenses, fines or both for failure to meet government standards. Don't let the coming changes catch you out.
There are small changes that you can make which can add up and save you money in the long run, including installing energy-efficient light bulbs, a smart meter, draft proofing or insulating a hot water cylinder. Doing these things can both save you money and improve your EPC rating. Specific advice and recommendations for your own property will be provided in your EPC assessment.
---
Get started now and enjoy a 30-day free trial
---
What do you need an EPC rating for?
An EPC rating is required before a property can be bought, sold or rented.
How do you get an Energy performance certificate (EPC) carried out? 
What does an EPC contain?
An EPC contains information about a property's usual energy consumption and costs as well as recommendations to reduce energy usage and spend. 
How long is an EPC certificate valid for?

What is the highest to lowest EPC rating?
The EPC sets out the property's energy efficiency rating from A (most efficient) to G (least efficient). The minimum rating that you can have at present is an E for all types of domestic and non-domestic properties.
What are the changes the government is looking to put in place?
The current rating that a landlord needs to have for an EPC is an E and above, which has been in place since April 2018. This means that a property with an EPC with an F rating or lower cannot be rented out. 
The government is looking to improve this minimum standard to a C rating for new tenancies by 2025 and for all existing tenancies by 2028.
What do the EPC changes mean for landlords?
Landlords will now have to ensure that their rental properties meet these standards as and when they change. It is crucial to ensure that you comply with these standards as failure to reach the minimum standards or to obtain an EPC at all carry penalties enforced by the government.
What are the penalties for not getting an EPC?
A property must have an EPC before it can be bought, sold or rented unless it is subject to an exemption. Failure to obtain an EPC when required makes you liable for a civil penalty notice. The default penalty for failing to obtain an EPC is 12.5% of the value of the property or £750 where for any reason this formula cannot be applied. Where the formula can be applied, the minimum penalty is £500 and is capped at £5,000. These penalties are enforced by your local authority building control department. 
There are also penalties where you obtain an EPC below an E rating and continue to let or sell the property. These penalties will scale in line with the government's proposed requirements from 2025 and 2028.
For more information or if you have any questions just hit the chat button in the bottom right corner of your screen or email us at hello@usehammock.com.